1Industry Demand and Problem
Withthe growing demand for the centralized feed system in the plasticsindustry,many automation companies rise at a rapid speed.There are thousands ofmanufacturers, agents, traders, self-employed businessmen, small workshops,andso on in the country,which claim to be able to manufacture the centralizedfeeding system.
Many customers do not understand about thesituation and find some relatively inexpensive suppliers to support them, butthey have no dedicated engineer, no imported processing equipment,no perfectservice team, as well as no strong financial support.In order to save costs,the projects after installation usually have many hidden dangers:
Unreasonable fan and pipeline selection,resulting in insufficient output and waste ofelectricity, to make the powder produced in raw material or wire drawing;

Pipe line block age,is unable to suck the material;

The mixed material is layered in the conveying process, and raw material producesstatic electricity;

•Poor equipment and installation process, shoddy, short service life, imperfectafter-sales service
2Liansu Granule Full-automatic Mixing & Converying System
Liansu is committed to designing reasonable scheme for customers
Configure with the high quality product
Professional engineering team,quick service team
Eliminate all worries for you.
Safe production, high degree ofautomation:

UsingPLC control,good expandability,simple and easy-understanding humanizedoperation interface,realizing continuous unmanned operation,has multipleprotection function, high safety.





Intuitiveand precise management:

Adopt industrial Ethernet remotemonitoring,can continuously monitor the margin and consumption of material.




Powerfulfunction,strong Flexibility:

Accordingto different ingredients, automatically realize weighing, proportioning,mixing, drying, conveying and other processes;




Qualitycontrol,improving efficiency:

Automatic, unmanned, continuousmaterial closed conveyor,ensure no second pollution and waste of material,toimprove the production efficiency and stabilize the product quality;




Advancedcentral power system:

Optimize energy consumption,effective energy saving, small covering area, low maintenance frequency;




Professionalsolution design:

Throughthe combination of material characteristics, air speed, air pressure,engineering structure and other design solutions, effectively solve theproblems of producing dust,degradation and static during the process of material beingconveyed.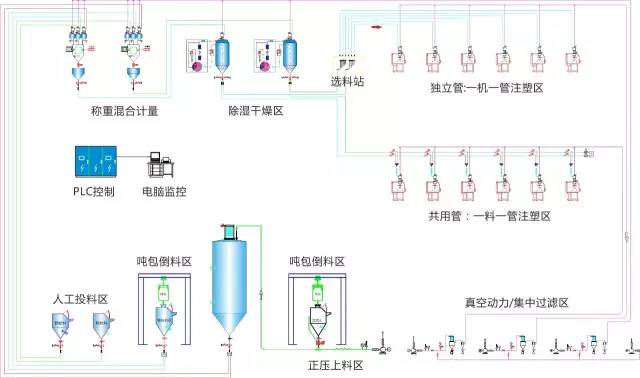 DiagramⅠ Centralized Feeding System Flow Chart