In the construction and installation of pipelines, pipe connections are mainly carried out through fittings, socket, welding and other ways to ensure the reliability and sealing of the connection interface installation. The use of socket connections in pipeline can reduce the investment of pipe accessories, and PVC and PPH pipes commonly use socket connections.
Let us introduce Liansu socket machine, which is suitable for various socketing of PVC and PPH pipes, with automated operation to ensure the quality of socket.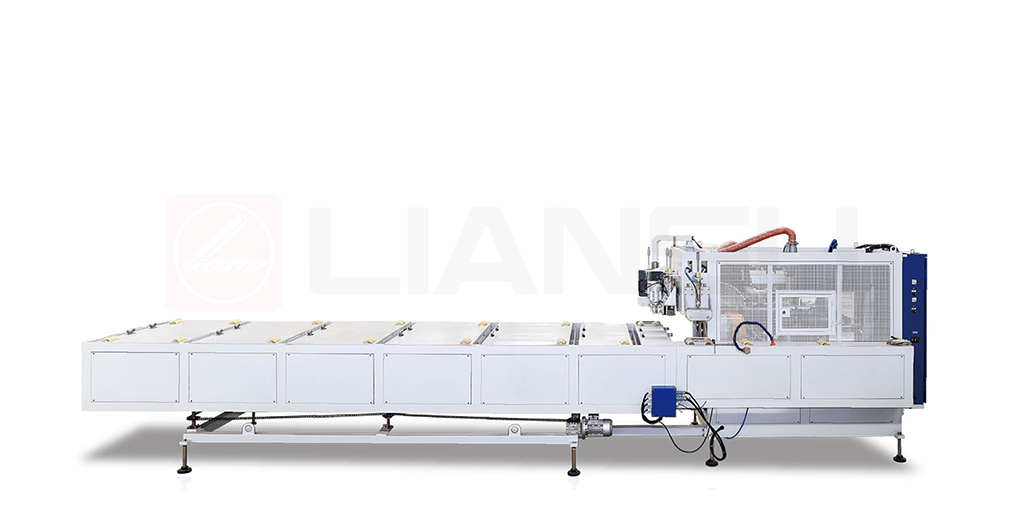 Various types of socket
The types of PVC pipe socket:
· Flat Socket ismainly used for drainage, water supply, and power communication pipes.
· U Type Socket ismainly used for water supply and drainage pipes.
· Rectangular Socket is mainly used for drainage pipes.
· Rubber ring socket is mainly used for water supply and drainage pipes.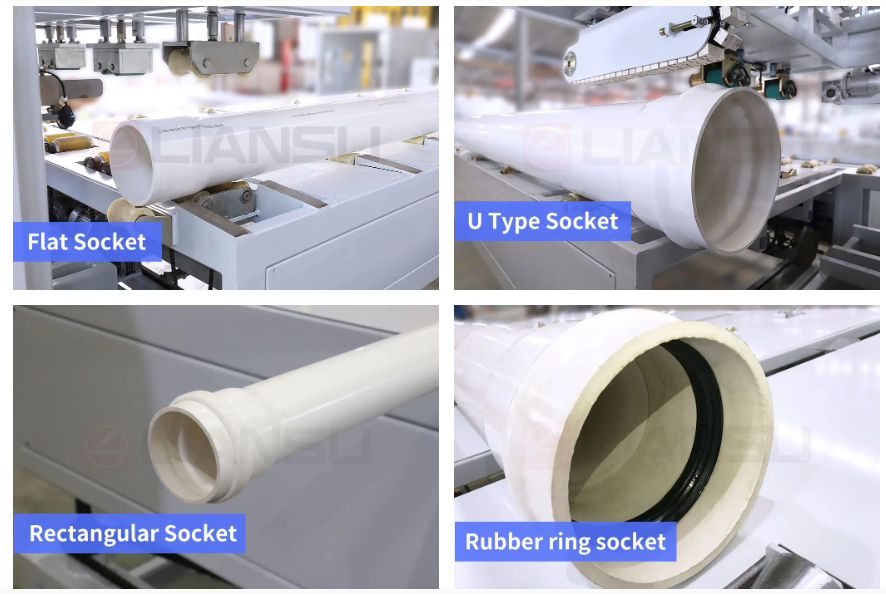 The PPH pipe socket is mainly rectangular socket. PPH has excellent chemical corrosion resistance, wear resistance, light weight, aging resistance and good insulation, and is mainly used for drainage pipes.
Product Serialization
The PVC pipe socket machine can meet the needs of different pipe diameters covering from 16 to 1000mm. The machine adopts clamping block heating, stainless steel electric heating tube heating, or quartz infrared rotary heating for socketing, which can be equipped with 1-station, 2-station, 4-station and 10-station to help efficient production.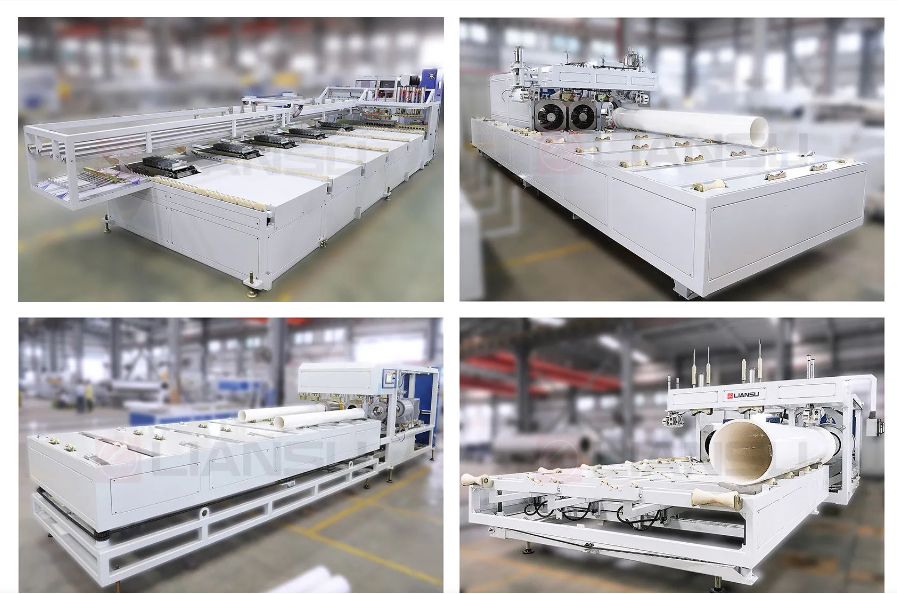 The PPH pipe socket machine is suitable for rectangular socket from Ø50 to Ø160, with pipe length of 0.5-6 meters. This machine adopts single pipe inlet with double-pipe or three-pipe socket structure.The pipe of Ø50 is three-station socket. The pipe of Ø63, Ø75, Ø90, and Ø110 is double-station socket and the Ø125, Ø140 and Ø160 is single-station socket . The heating mode is external heating with Haff clamping block heating, internal heating with infrared rotary heating, high-pressure gas blowing up forming, water-cooled shaping of the outer and inner molds.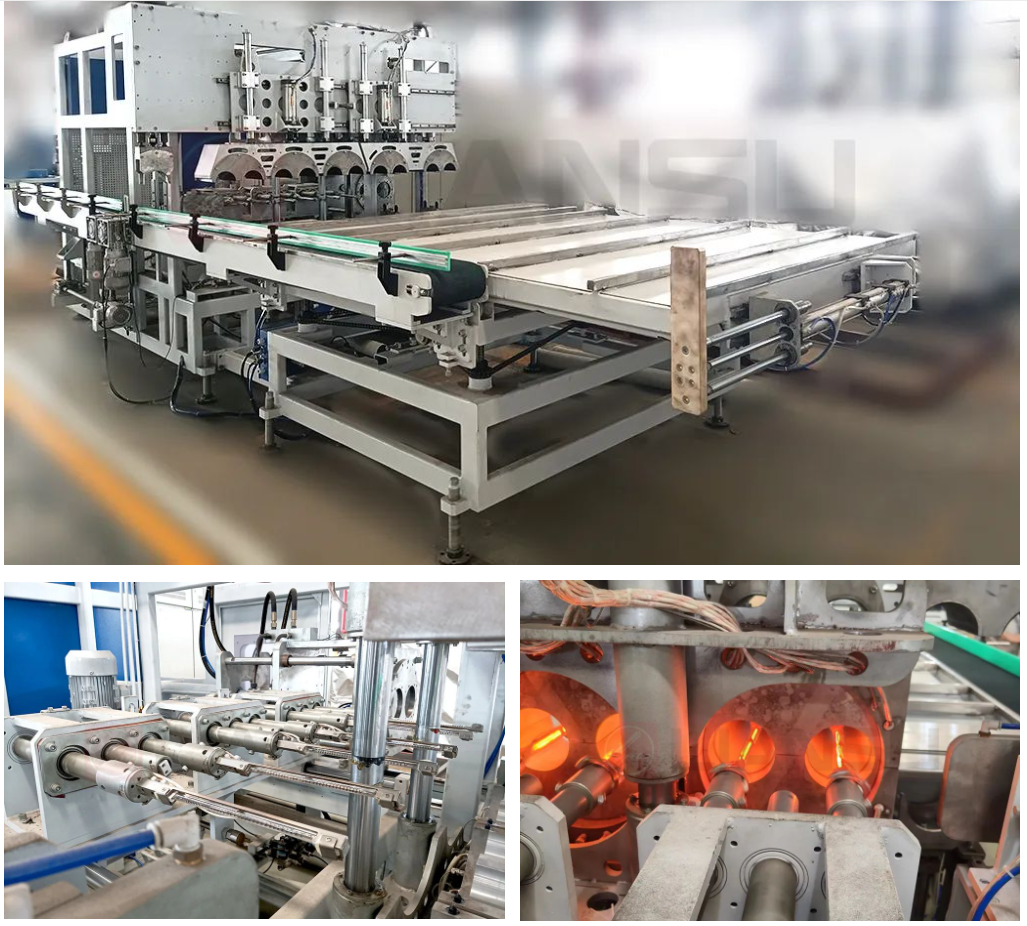 Strong universal adaptability
Both Liansu PVC pipe and PPH pipe socket machines can be used alone or connected to the entire extrusion line, making it convenient to use. The internal structure adopts modular assembly structure, which is easy to disassemble, clean and exchange.
Automated operation
The socket machine is equipped with PLC control panel with clear instructions and simple operation. In addition, the small pipe socket machine series can be matched with packaging machine for fully automatic online socketing and packaging.