●Use high-efficiency and high output main machine with large L/D ratio to ensure line speed up to 2X25m/min.
●Vacuum tank adopts negative pressure closed-loop control scheme, which saves 80% energy and greatly reduces noise.
●The production line adopts highly customized permanent magnet servo motor from main machine to downstream, which reduces energy consumption by 15% and the energy consumption of whole line is low to 0.270 kwh/kg.
●Configuration of automatic on-line packing mechanism with weighing function to ensure the qualified rate of production.
●Configuration of single-machine process data acquisition system to improve production efficiency and quality management.
●PPR large L/D ratio dedicated screw,ensures high-output and effect of plastification.
●The dedicated permanent magnet servo motor for extrusion (stable torque and speed output in full speed range) is equipped to ensure high efficiency, low consumption, low noise and low load noise to 72 dB in high-speed production.
●The inner main machine is LSS65-40, the main screw motor 75KW, and the production for PPR under pressure is up to 295kg/h.
●The inner main machine is LSS50-40,the main screw motor 45KW,and the production for PPR under pressure is up to 180kg/h.
●The main machine has high output as well as low melt temperature and low energy consumption to 0.270 kwh/kg.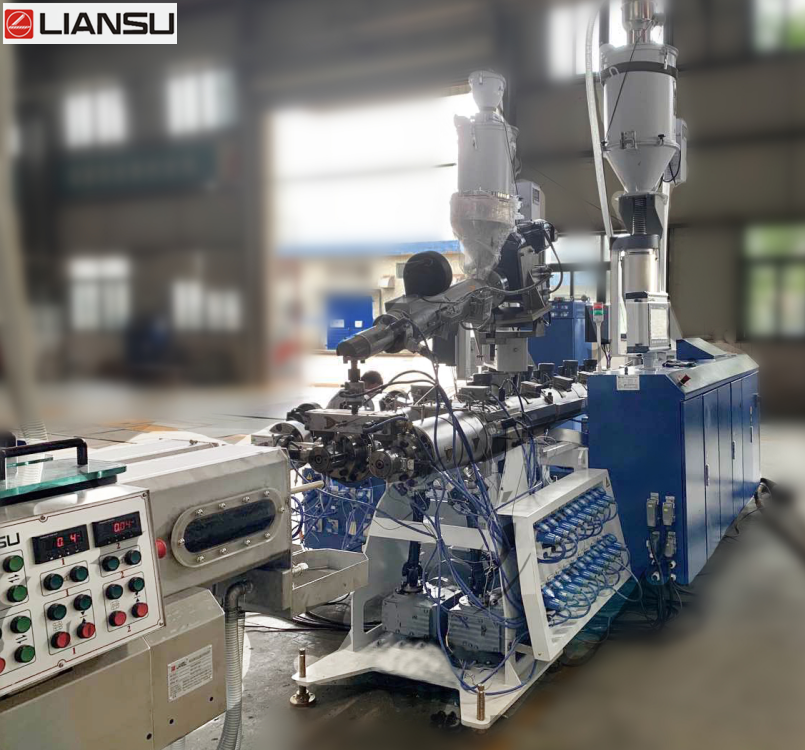 Double-layer and Double-pipe Extrusion Die:
●Basket structure is adopted in the mould to ensure uniform extrusion of two layers double stations.
●Mould distributor is equipped with independent melt pump, which can effectively ensure stable melt flow distribution at double-station.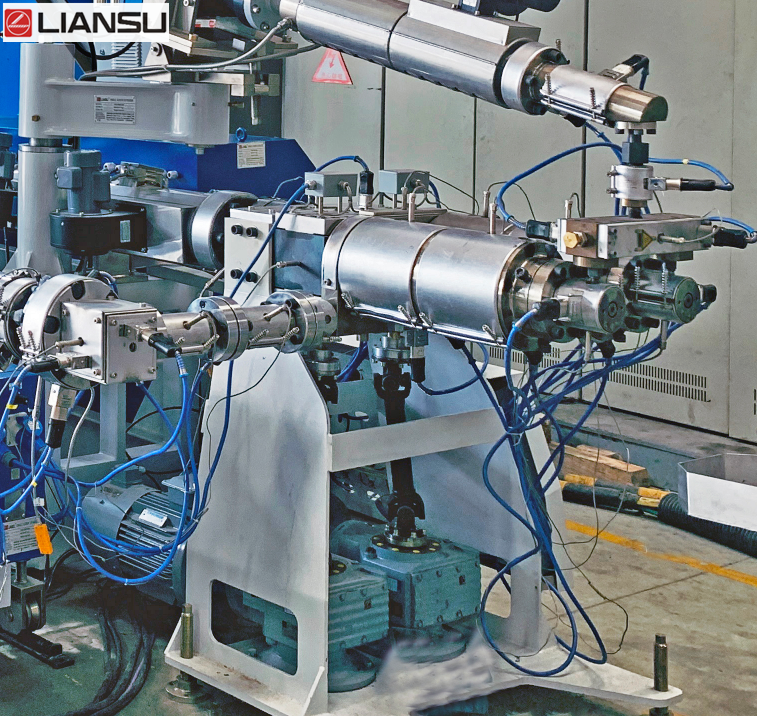 Vacuum Forming&Cooling System:
●Vacuum tank and water tank adopt air or water sealing to reduce the jitter of high-speed production pipes.
●The vacuum tank is equipped with vortex water tank and stable water pressure device to reduce the bubble of cooling water and ensure the stable water pressure.
●The calibrator adopts Barrel Type+Butterfly Type structure,high efficiency of cooling.
●The unique pipe support mode of immersion water tank,further reduce the jitter of high-speed production pipes.
●Vacuum pump adopts full automatic closed-loop negative pressure regulation,constant vacuum negative pressure to ensure the stability of pipe O.D.,and the noise decreases to under 70db,energy saving up to above 80%.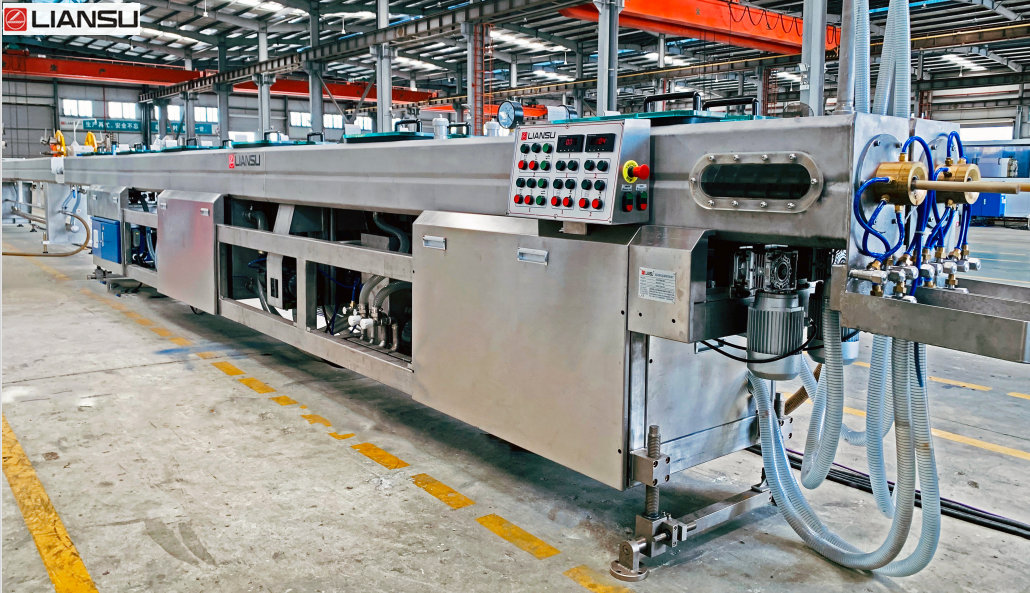 High-speed Hauling&Cutting Mechanism:
●Haul-off unit adopts permanent magnet servo motor to ensure above 60 times of stable speed regulation range.
●The cutting machine adopts flying knife mode,no PLC is needed for fixed length automatic cutting, simple and reliable.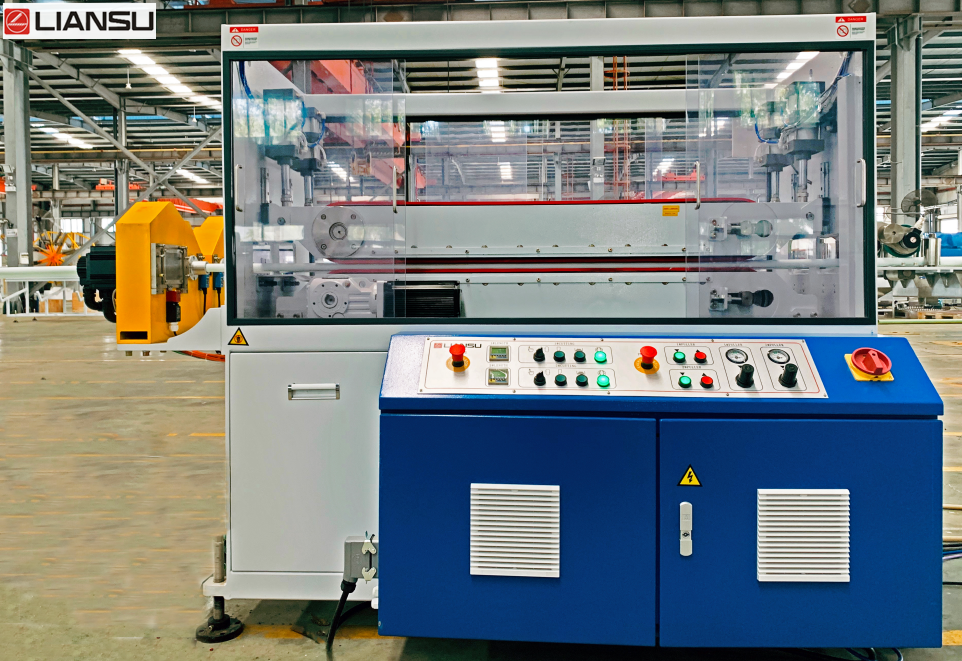 Online Automatic Packing Machine:
●Packing machine has automatic weighing function to ensure the accuracy of packing quantity.
●The unique pipe arrangement structure of packing machine greatly reduces the cross of packing pipe.
Sewing adopts double fold mode, which makes the seam appearance beautiful.
●Specially designed bag catching device,even if under the 2~3kg very low air pressure,it can still ensure the reliability of bag catching reaches 100%.
●Stable bag opening and leveling mechanism ensure the stability of sewing.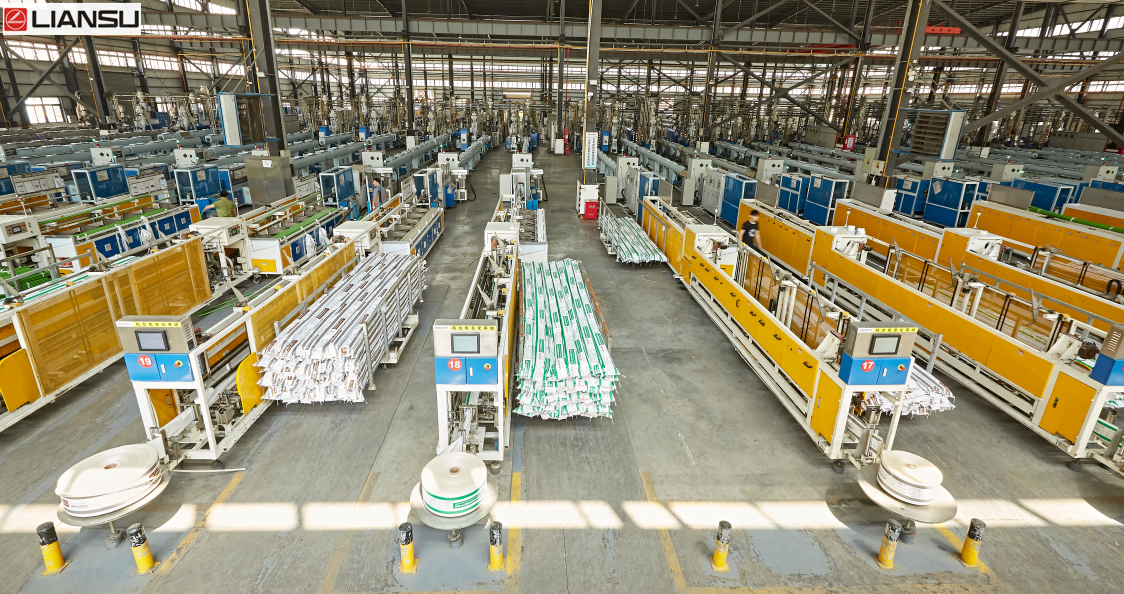 Single-machine Data AcquisitionSystem&Analysis System:
●Real-time acquisition of key data in the production process: main machine output, total electricity consumption, energy consumption,material consumption, main machine speed, current, torque and vacuum negative pressure
Real-time acquisition of process data in the whole production line and it can archive and save the best technological formula.
●Effective preservation of the collected data history facilitates the analysis and tracing of the data.
It can customize the report output to the data concerned by users.
●The software and hardware of the data acquisition and analysis system deeply customized for the plastic extrusion can be flexibly configured and networked.