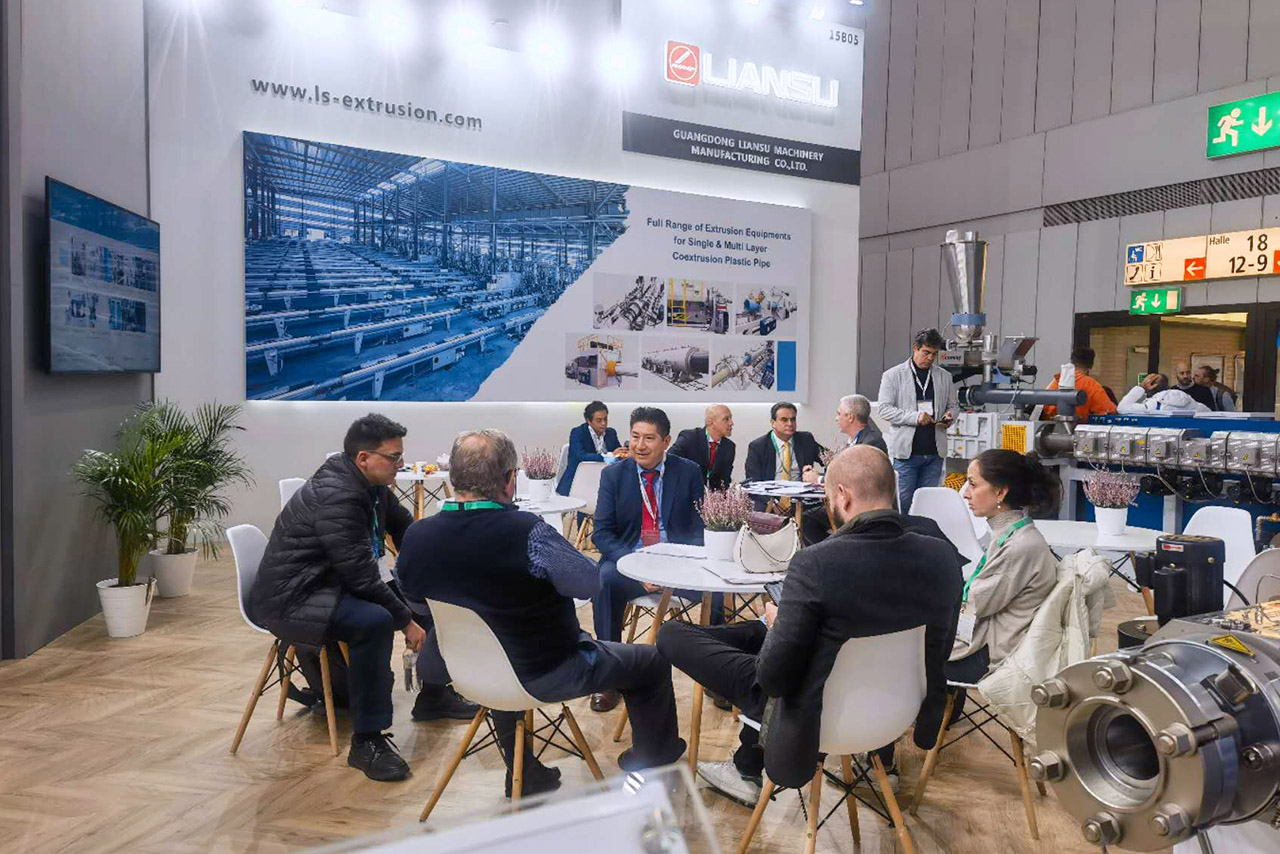 K2022, a triennial event of the global rubber and plastic industry was officially opened in Dusseldorf Exhibition Center ,Germany on October19th . Liansu Machinery demonstrated the extruder which is dedicated for plastic pipe and its sub-brand MCONVEY demonstrates the loss in weight feeder and multi-component formula scale series for the first time . The exhibits focus on ' energy saving and efficiency , digital manufacturing , which make plastic extrusion production's consumption more lower , simpler and more efficient'.
Liansu Machinery has already invested in the research and development of energy saving and efficiency improvement of plastic extrusion and upstream and downstream production equipment and has provided a complete set of mature solutions to users.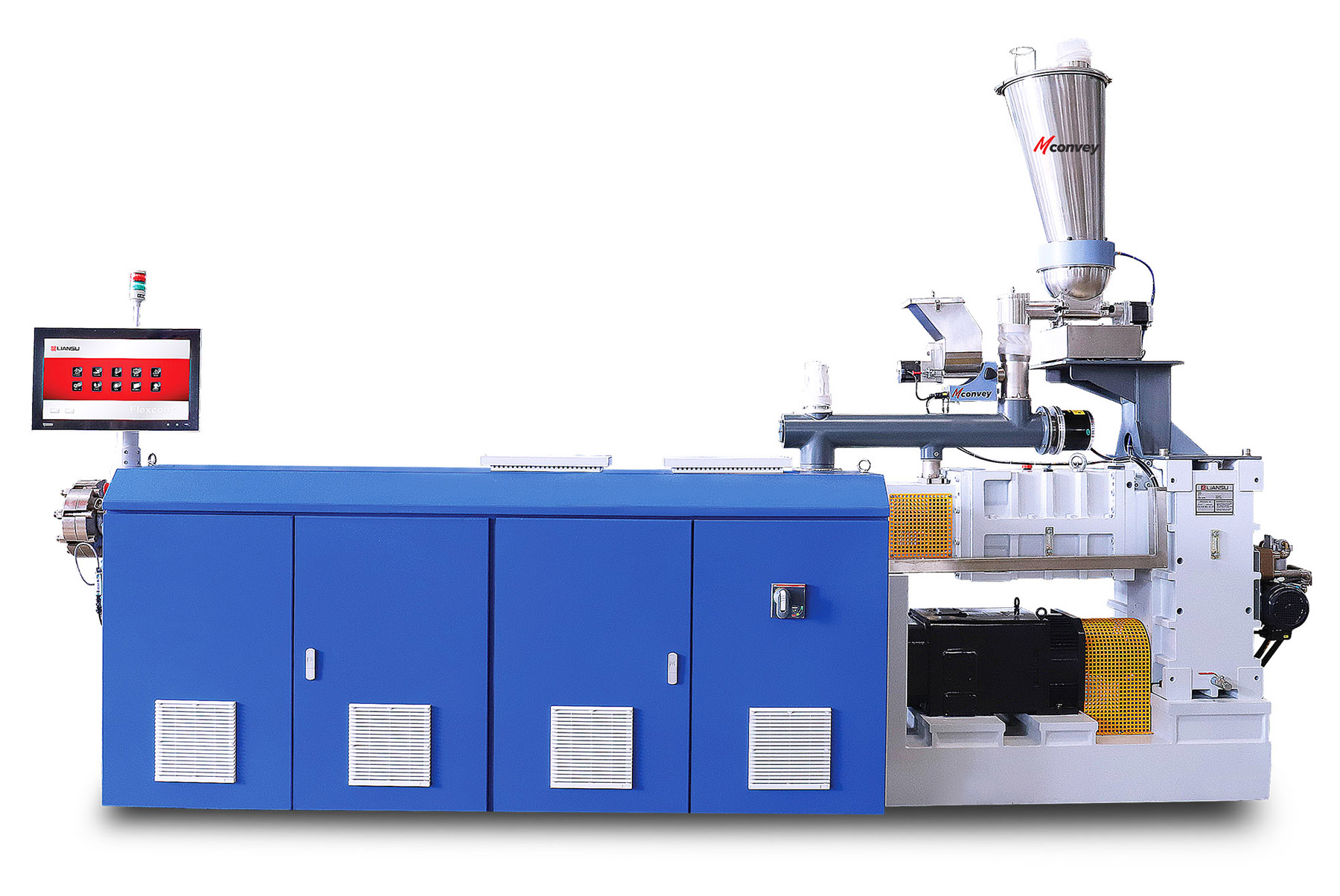 Parallel twin screw extruder for PVC pipe
The new parallel twin screw extruder dedicated to PVC pipe is adopts double screw with 36 big draw ration, adopts super efficient permanent magnet synchronous servo motor , the output is up to 550kg/h, the whole line energy consumption is as low as 0.105kwh/kg.
Flexcon+:
The control system of extruder adopts Flexcon +integrated control system of ' operation ' and ' datafication' , which is independently developed and equipped with graphical interactive interface, centralized collection and analysis of production line data, open type 's communication, self-real-time monitoring,automatic adjustment and repair of product quality and equipment control status in the production process. Flexible industrial control system integrating equipment control PLC+data interconnection; WINDOWS 10 operating upgrade.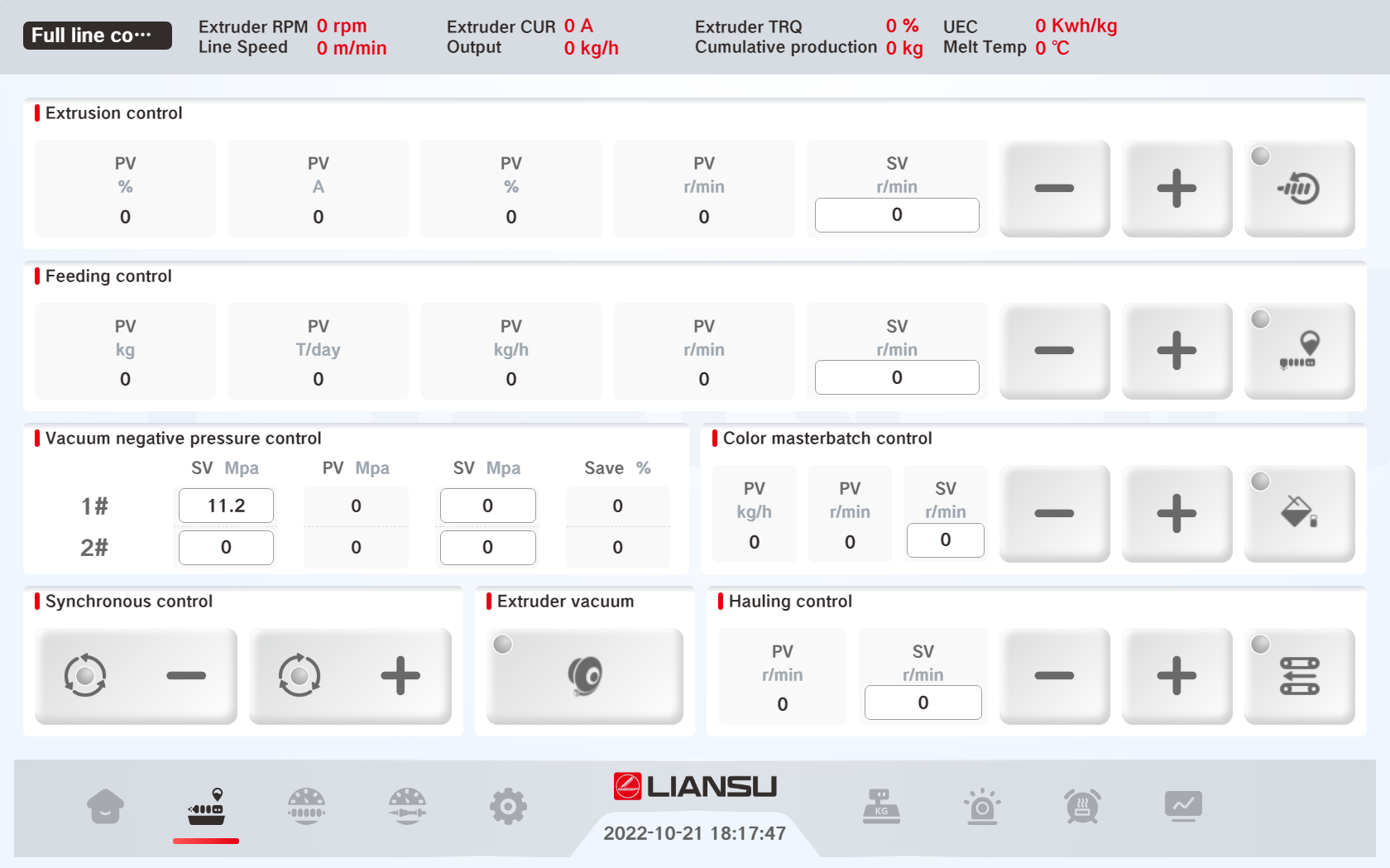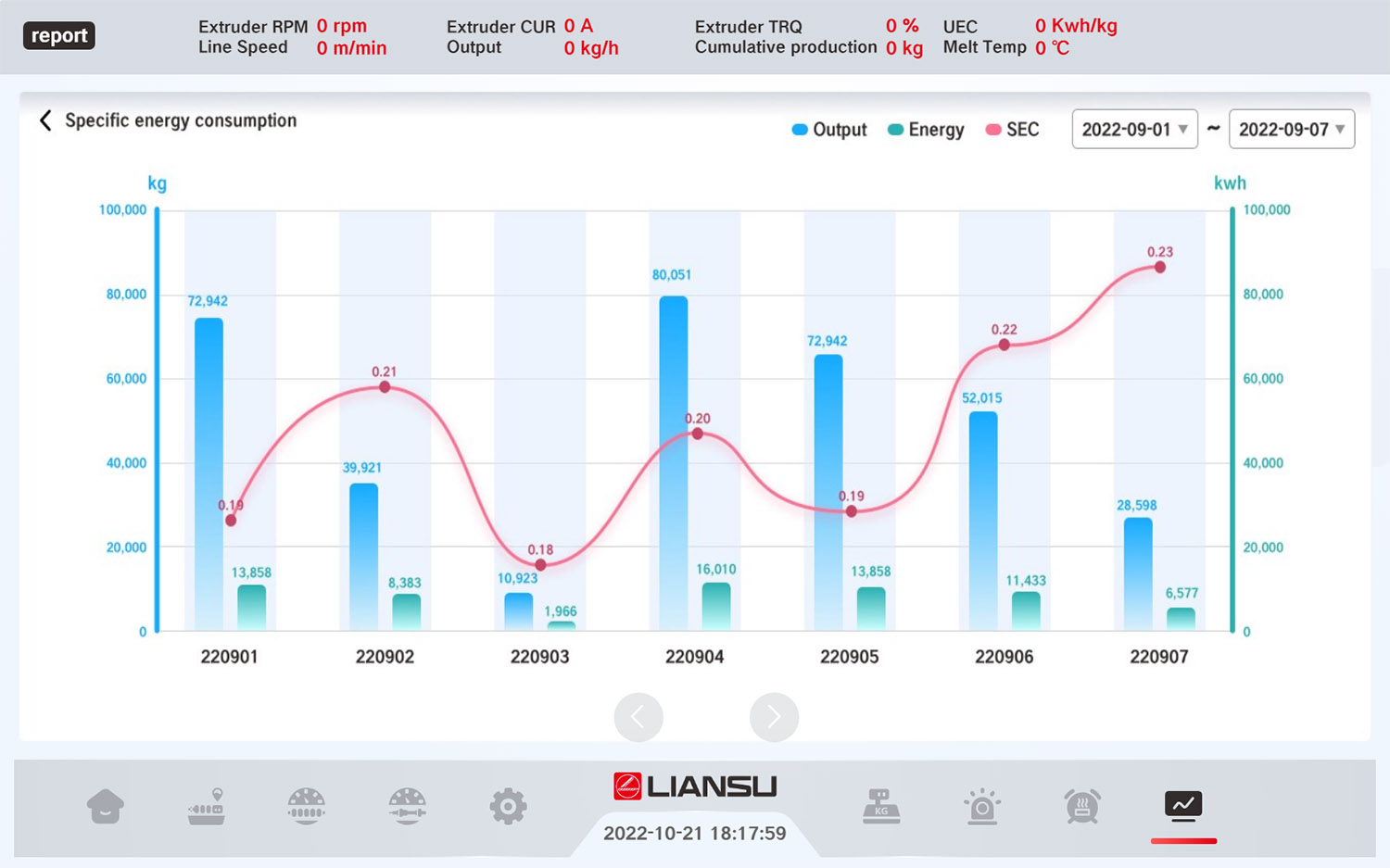 loss in weight feeder for powder:
The extruder equipped with Liansu's sub-brand Mconvey powder loss in weight feeder also debuted at K-show . the main material double screw loss in weight feeder can more accurately control the output of the extruder , and can accurately feed the powder raw materials with poor fluidity( with excellent bridge breaking performance). To provide accurate online measurement for powder materials which fluidity is poor , adopt double screw design,with good linear output characteristics ( the output varies linearly with the change of screw speed). The key is that the screw drive adopts customized servo motor +silent distribution box, the vibration index is not more than 0.6mm/s under high speed operation, so that this series of powder loss in weight feeder's output range will up to 100 times (50-500kg/h), precision control in ±0.5%. Second, this powder loss in weight feeder has excellent bridge breaking performance for the materials which with poor fluidity , that is due to its unique DD hollow stirring servo motor , and with horizontal and vertical without dead angle of the omnidirectional mixing at the same time . in addition , the loss in weight feeder has a lightweight structure design, so that its operation and measurement accuracy , has an advantage in the same industry .
color mixing loss in weight feeder:
The extruder is equipped with MCONBEY online color mixing weight loss in weight feeder to realize flexible online color mixing and accurate measurement of micro-color powder;the main material and color powder are the scales in accordance with the 'loss in weight mode' for automatic feeding, these can be in accordance with the preset' feeding quantity kg/h', strictly according to the weight mode of synchronous feeding ,to ensure the uniformity of color mixing ; after the main material and color powder material are fully mixed by stirring screw , they enter the extruder. The overall modular structure can realize quick cleaning and color change.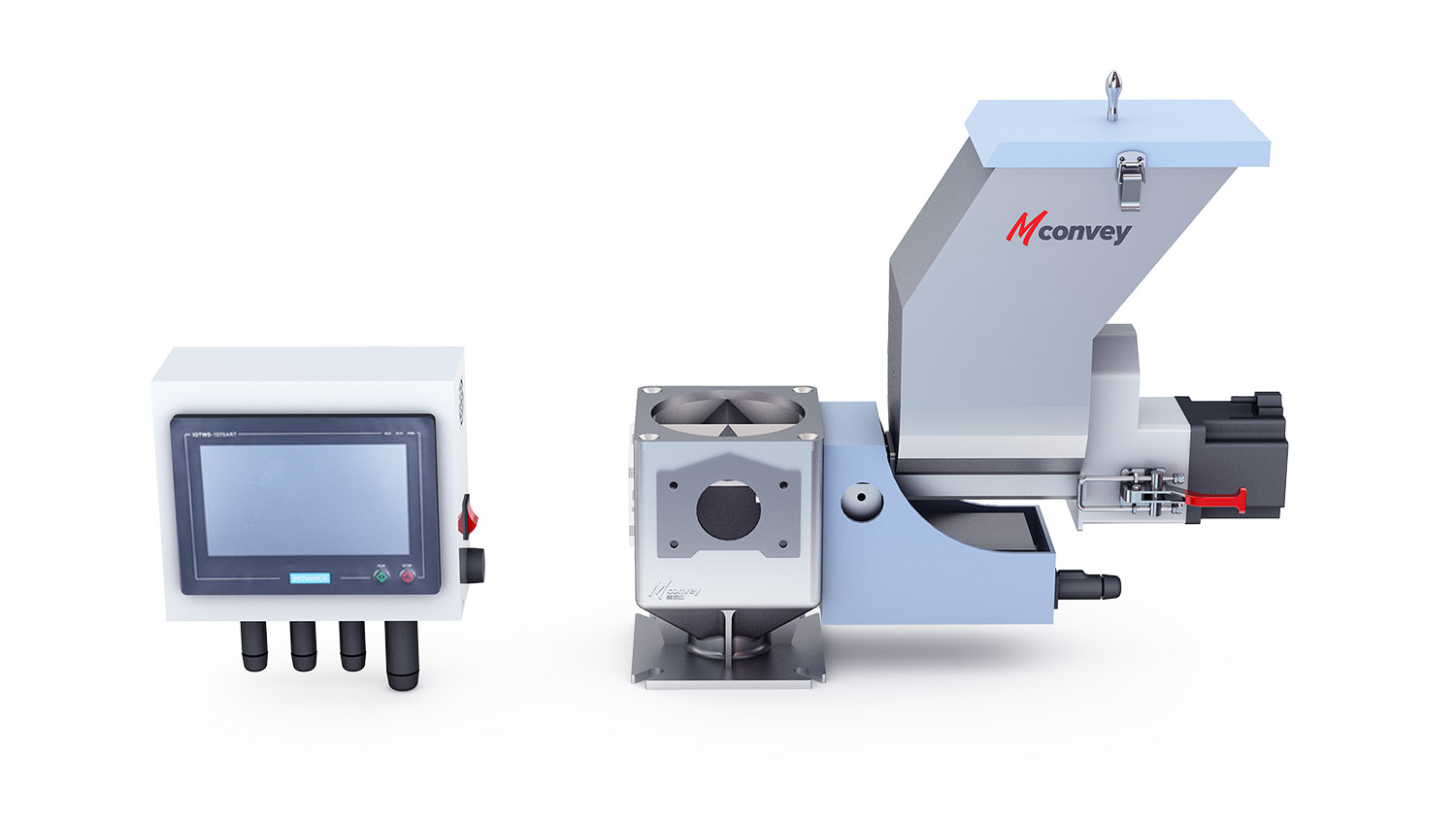 ----------------------------------------------------------------------------------------------------------------------------------------------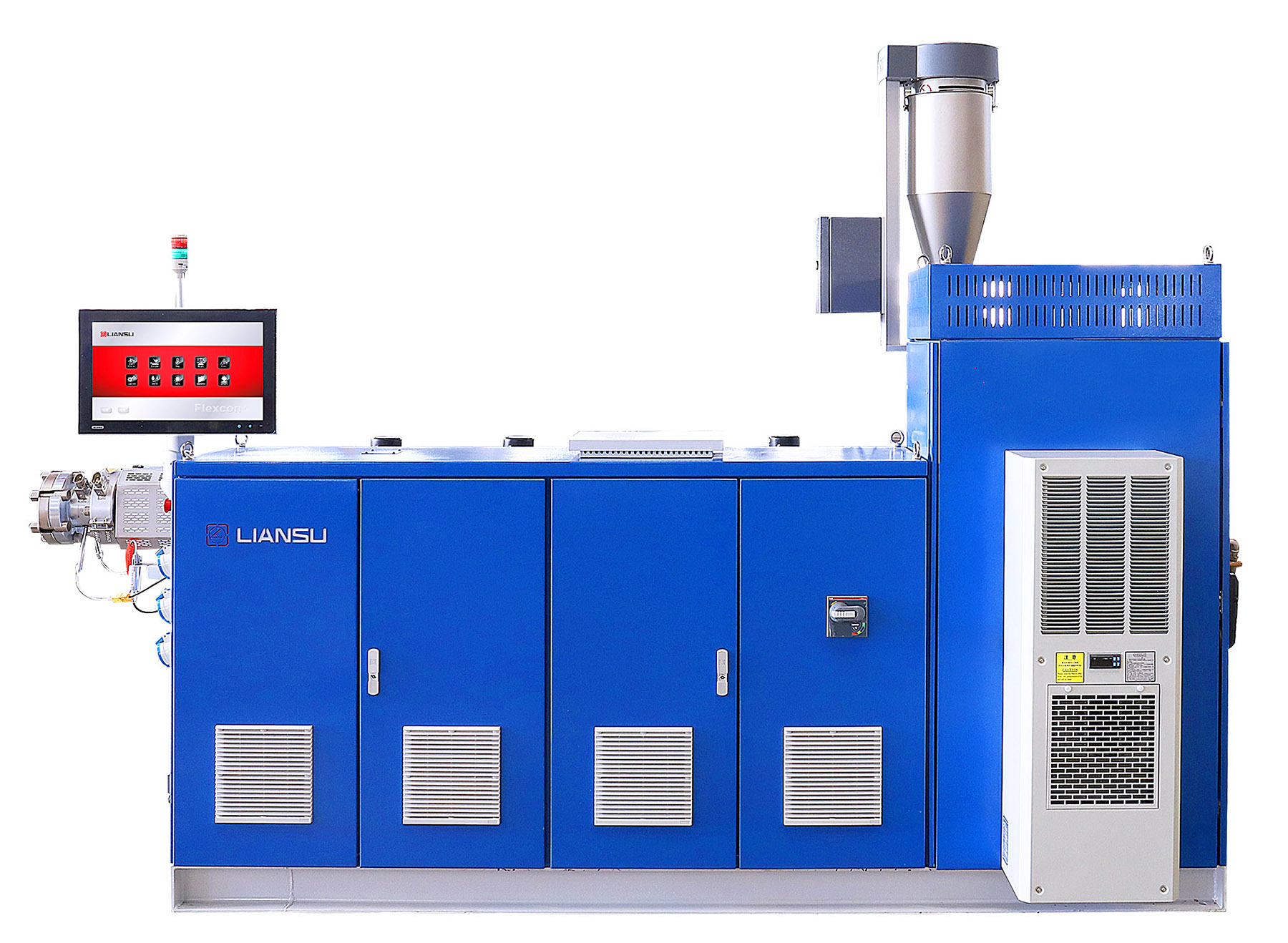 Single screw extruder for HDPE pipe
adopt 40 big draw ratio for single screw extrusion and spiral bush to ensure the stability of extrusion quality with high output, good plasticization and low melting point; the main screw drive adopts ultra-efficient permanent magnet synchronous servo motor , the output is up to 550kg/h, the whole line energy consumption is as low as 0.245kwh/kg;
The extruder is integrated with the main material meter weight scale, which can accurately control the weight of pipes per meter, save raw materials and shorten the start-up time while controlling the quality of pipes.
loss in weight feeder for color master batch
At the same time, the extruder is equipped with the Mconvey 's loss in weight feeder for color master batch to ensure that the micro master batch and the main material are accurately conveyed according to the set output and realize flexible online color change.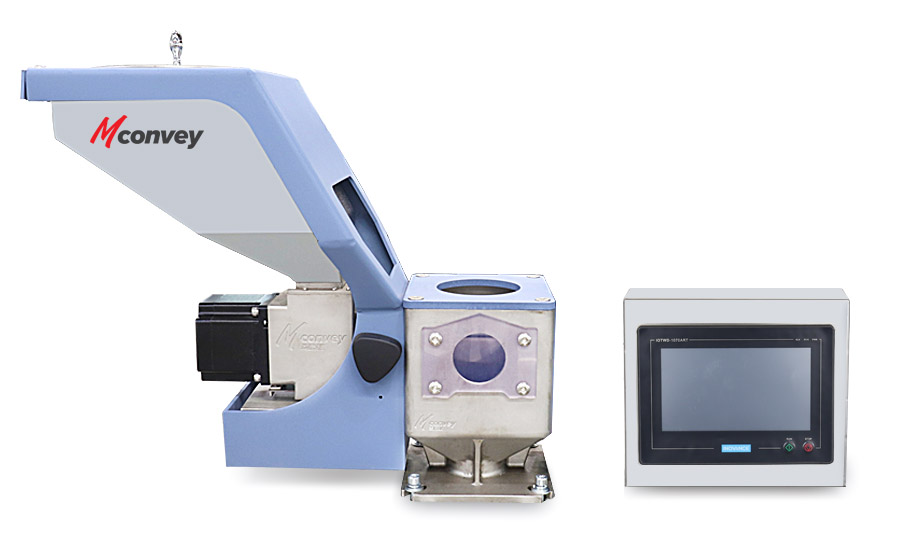 Flexcon+:
Also equipped with Flexcon+'operation' and 'datafication' integrated control system independently developed by Liansu, making production simper and more transparency.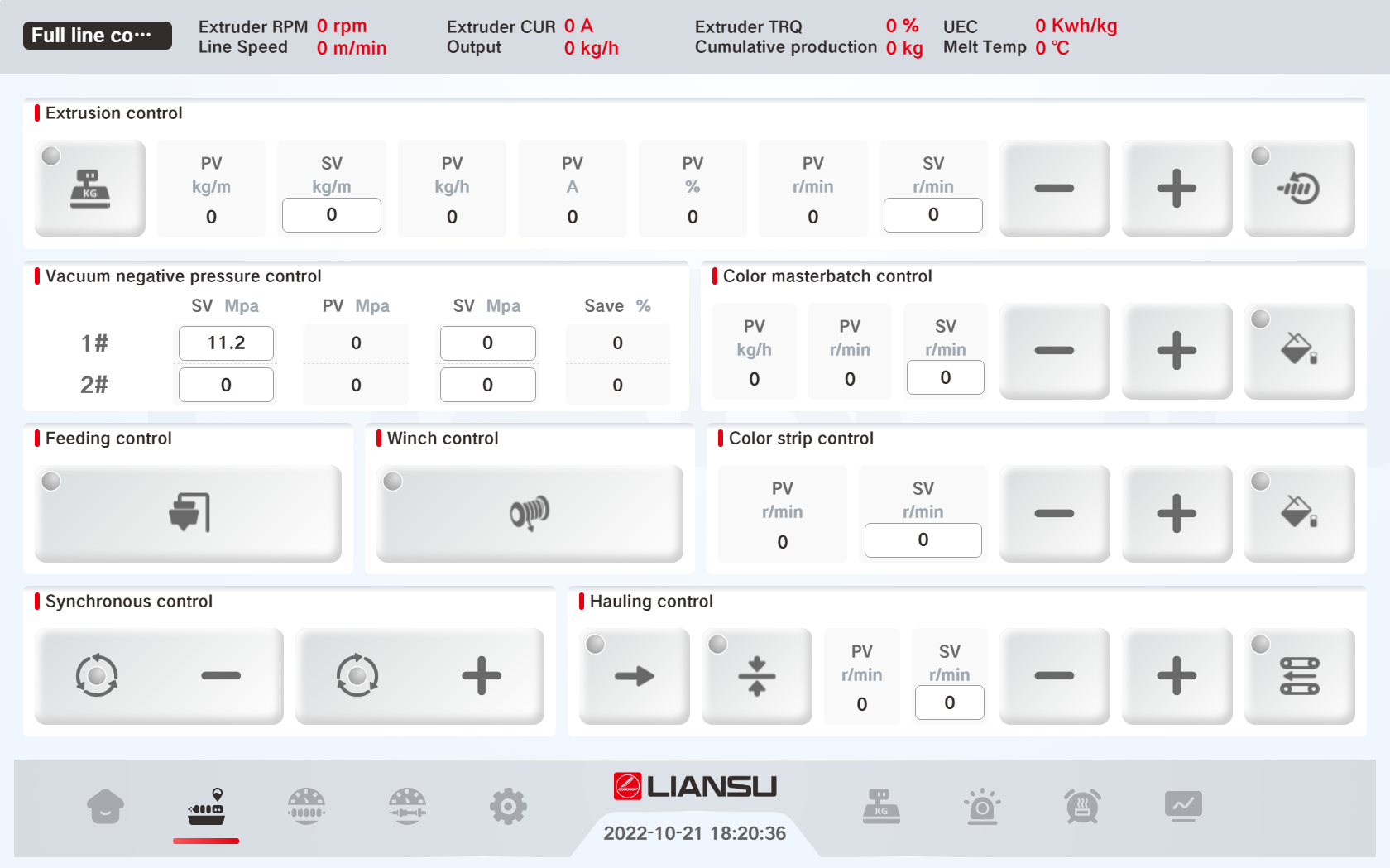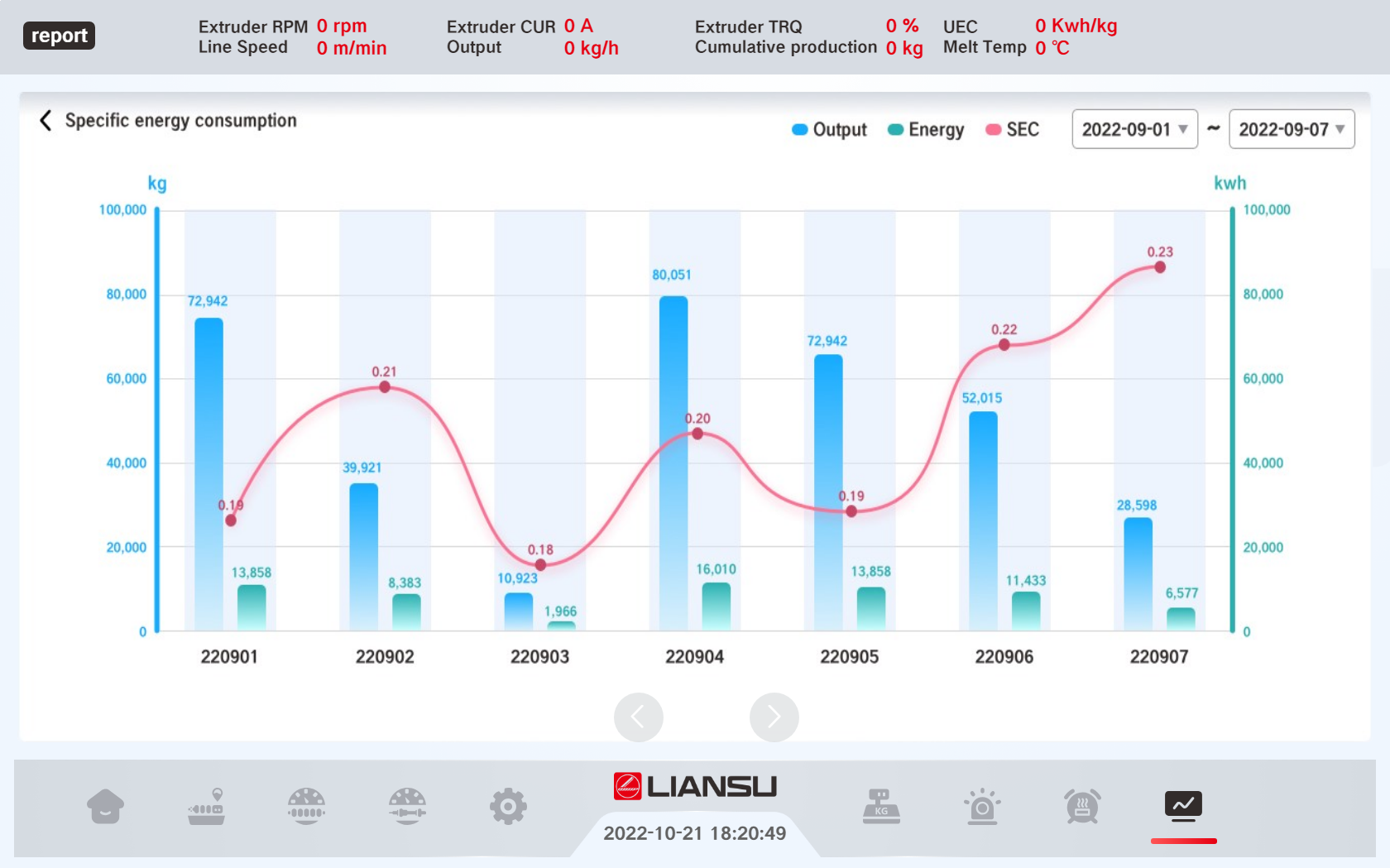 -----------------------------------------------------------------------------------------------------------------------------------------------------------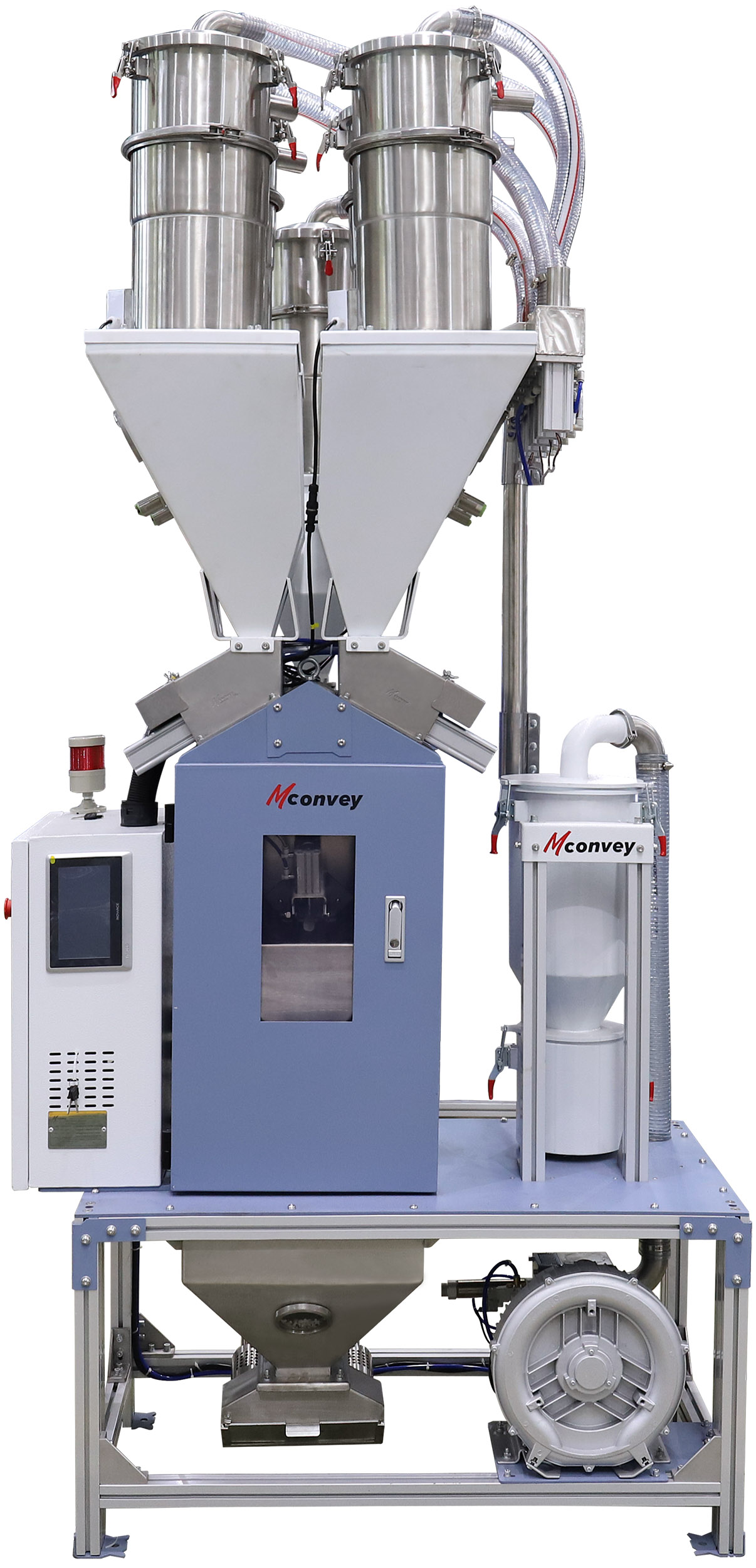 Multi-component weighting type mixer
Mainly used in a variety of granular online or offline weighing and mixing
1. Suitable for a variety of granular materials in accurate proportion to automatic measurement and then fully mixed;
2. Modular assembly structure, easy to disassembly and assemble, easy to quickly clean and exchange;
3. Rapid metering gate valve adopts stainless steel precision casting ,quick action response,high measurement accuracy;
4. Micro raw material adopts screw precise measurement ,and adopts modular expansion mode ,can be freely selected and combined;
5. Micro raw material adopts screw precise measurement ,and adopts modular expansion mode, which can be freely selected and combined;
All materials are mixed evenly by gravity measurement, and the precision of micro measurement can be strictly controlled at ±0.5%;
6. With automatic repeated calibration function, can quickly change the formula online ,to ensure the best accuracy of ingredients;
7. With a unique large output and high precision performance;
8. The key parts of the whole series of weighing and mixing machine are all common;
9. With Ethernet communication function, realize centralized monitoring function with other equipment networking;
10. Each hopper of this weighing mixer integrates automatic vacuum feeding ,easy to use and occupies little space.